It's quite possible that these will be the last shots ever of BVFD doing what we've been doing for 57 years as the City of Brackettville and the Kinney County Commissioners have seen fit to withraw any and all support from our department and to add insult to injury, they've taken our trucks. But it's not personal, they told us so repeatedly. That makes the theft of our trucks and the loss of community support all better.



It occurred on FM 334 and was started by someone who was welding and just didn't notice the one hot bit of metal that he'd tossed aside had sparked a fire. It's so dry here, it was out of control befire they knew what happened.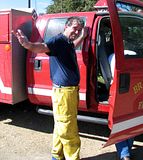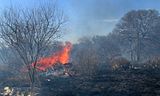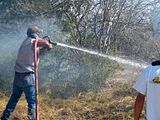 Click here to see all shots from today.



The second fire occurred in Spofford

during this atrocity of a meeting

. Spofford is a bit of a drive from Brackett. I was told that the house was burned to the ground by the time BVFD had arrived. No one was living in the home and it had no electricity running to it. It's unknown how the fire was started but some residents of Spofford commented that burned paper "and stuff" had been found in the house before and that kids "messed around" in it. BVFD spent several hours on the scene to keep the fire from spreading into the wildland in the area. Thankfully, no one was physically hurt.