Saturday, March 8, 2008
At our business meeting on Wednesday night we voted in two new BVFD members.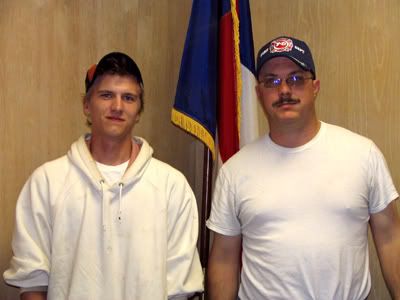 Welcome Travis and David!

Put out by BVFD at 1:35 PM 0 comments

Labels: BVFD Members, City of Brackettville
Friday, March 7, 2008
March 7, 2008

West Texas under fire danger alert
Vacationers and campers urged to use caution

COLLEGE STATION, Texas – A combination of weather factors forecast for the next few days, plus tinder-dry grasses and vegetation have resulted in the National Weather Service to issue Fire Weather Watches in far West Texas for this weekend. Low relative humidity and strong, gusty wind conditions are on tap for at least the next few days.

With the "Spring Break" season comes those taking vacations that include many outdoor activities, especially in the Big Bend area.

"Our grasses are not in spring green-up yet," said John Morlock, fire management officer for Big Bend National Park. "We don't have the flower display that we usually have, and the dry grasses are cured and ready to promote the spread of a wildfire."

Morlock continued saying that historically during the month of March; three out of four fires in the park are human-caused. "We are asking our visitors to make an impact and help us prevent these types of fires."

Citizens and visitors are urged to be extremely cautious during this period of critical fire danger. Some precautions suggested by Texas Forest Service include:
· Check with local authorities for Outdoor Burning Bans
· Your vehicles, including ATVs, can start a fire if parked or driven in dry grass
· Be sure tow chains are secure and don't drag on the roadway
· When grilling, place your barbeque over cement; be sure coals are completely out when you are through (douse them thoroughly with water)

Morlock also urged caution with campfires and backpacking stoves.

For more information on fire weather danger and advisories, go to http://tfsnews.tamu.edu/ and click on Wildfire Information.
Put out by BVFD at 2:48 PM 0 comments

Labels: City of Brackettville, Texas Forst Service